About us : SD Safaris to Tanzania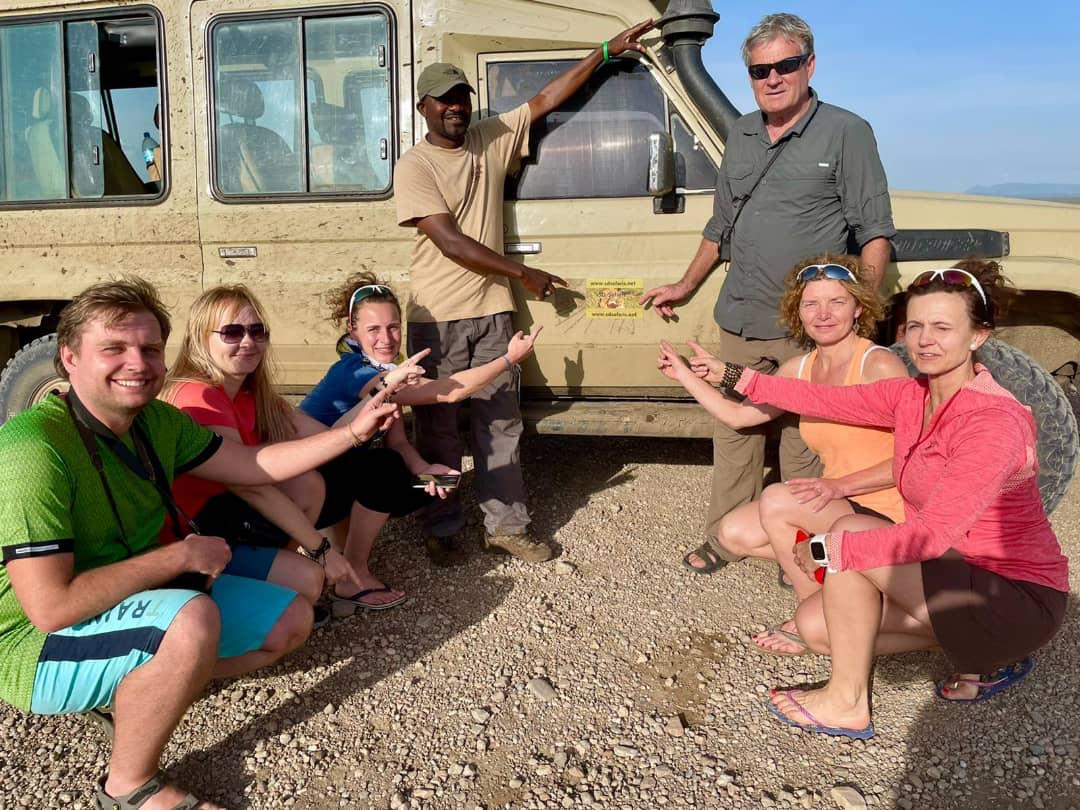 We are Proudly Tanzanian; a truly Tanzanian native company but with a discernibly international flair.State-of-the-art safari vehicles; we will take you on safari with our comfortable safari vehicles tailor made for the Tanzanian wilderness.Best naturalist guides; we employ one of the strongest full time guiding teams on the country.Attention to detail; we place great importance on the less obvious elements needed to provide life enriching journeys.Great rates; steady volumes, well-established business relationships, and a great reputation within the industry ensure that we are able to obtain top rates and guarantee value for money.Expertise & Experience; with  years of combined safari specialist experience and expertise in the Tanzania safari industry, we boast the world's foremost safari planning tribe for Tanzania and we maintain only the highest standards.Non-exclusive; working with us in our own areas of expertise does not mean you can't work with others as well in theirs.Original ideas; each safari is imaginatively hand-crafted creating unique itineraries which are geared towards the specific interests of the groups or individuals wanting to book.Local knowledge; As we are based in-country and we have the luxury of being able to travel around on a regular basis.Flexible; we place great importance on identifying the specific interests and expectations of our guests so that we can make the arrangements that suit them rather than those that suit us.Reliable; we have a quick response time so our turnaround time offers trade partners the opportunity to respond quickly themselves with all the information required and detailed itineraries to send on.About us : SD Safaris to Tanzania , Read Some of our Clients Reviews Below : –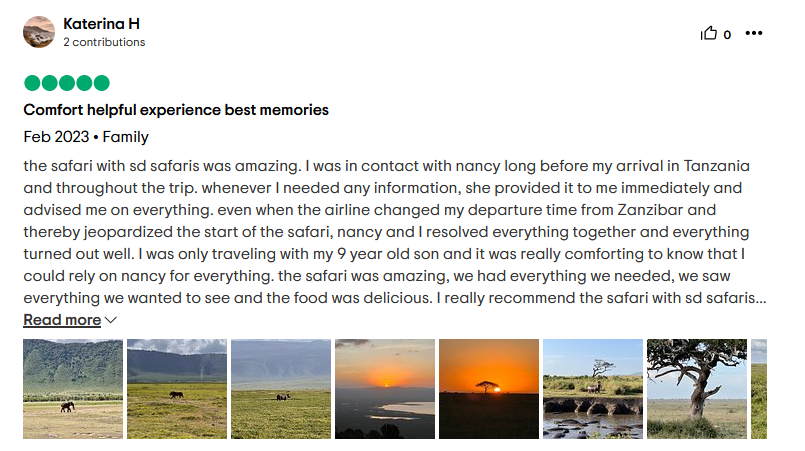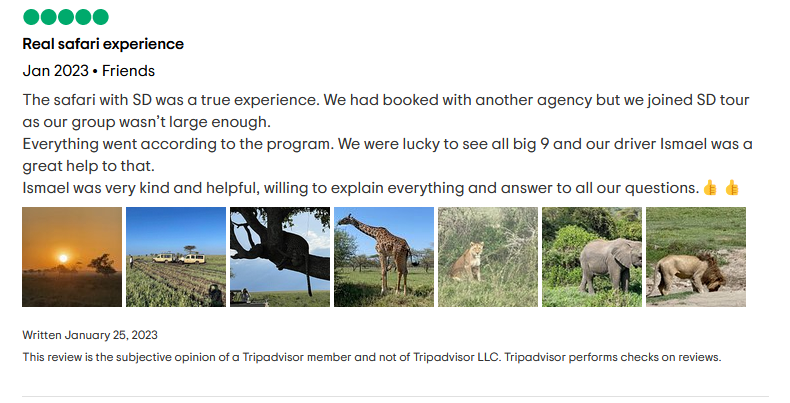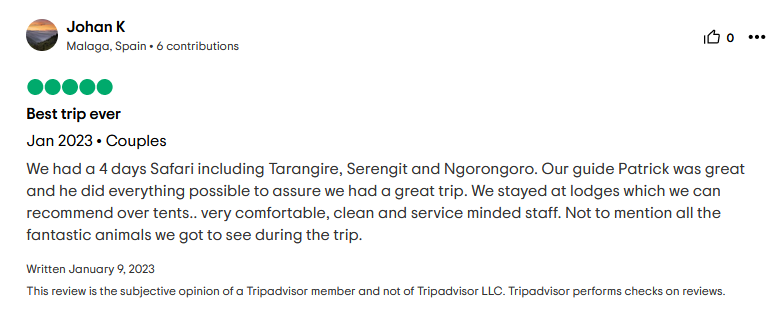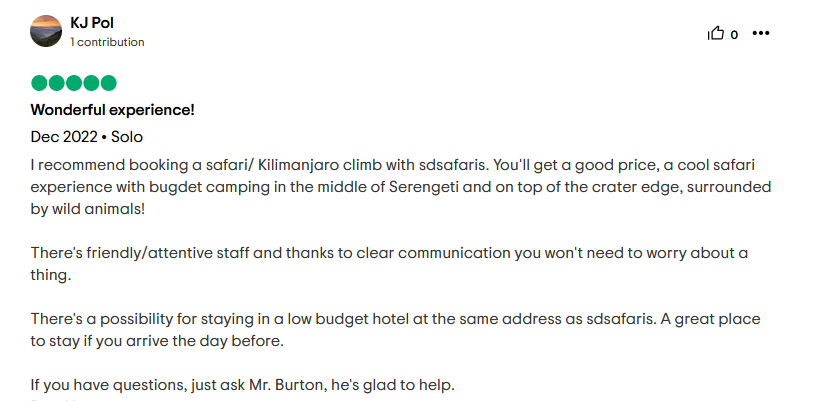 Comprehensive; the supply of accurate, timely and up-to-date information to our trade partners is of the utmost importance so we check and update the in-country information imparted to trade partners on a regular basis.Access; our policy of working with local communities to our mutual benefit means we often have access to areas and experiences not known or available to others.Cutting edge; we ensure we remain at the forefront of new safari possibilities, keeping track of new developments and being amongst the first to encourage local inventiveness and innovation.

Sustainable; we are conservation orientated and socially responsible, whilst conducting our business in an environmentally conscious and sustainable manner (see Social Development Safaris).

Personal; relatively low volumes ensure one point of contact from your initial enquiry to your 'in-country guest feedback' message, and this also ensures that our safari planning tribe is focused on their personal relationships with international partners. Our success is based on knowing you and getting to know your guests so we can deliver genuine personal attention.

Available: we are easily accessible through email, skype, whatsapp and on our 24-hour available mobile number – +255 764 269 160.

Independent & owner run; giving us a family-run business feel while maintaining the level of professionalism you would want from any serious business partner.

Company Director Burton :

Mr. Burton

Burton was born and grew up in Arusha ,Tanzania . He went to Kijenge primary school from 1992 until 1998 after that he continued with secondary school at Mringa secondary  from 1999  until 2002.

Afterwards he went to the college of tourism institute  in Arusha (big five college) from 2003 until 2005 and in 2006 , he started to work as a Driver and Guide in several companies like Victoria Expedition and Pure Afro Travel from 2006 until 2014.

Upon getting a lot of experience then he decided to change profession and stop going as a Driver Guide & work as a Tour operator under the company called Killi Climbers and Safari for 2 years .Then later on he decided to open his own company which he called S.D safaris (Social Development Safaris) , because we normally help the street children as well with the cooperation of one of the company in Nertherland – Neema Tours.

Company Director David:

david

David was born in the year 1992 in Arusha, Tanzania and went Naura  primary school from 1999 until 2002. He then afterwards went to Kimasec Secondary School from 2003 until 2006. After that he went to Singida Institute of Accountancy for 2 years and got diploma , thereafter he went to Kurasini institute of Accountancy from 2010 until 2014and got degree of accountants.

He  then got work at the one of the Telecommunication company in Dar es Salaam – TIGO until now and he is the one who represent the branch office in dar es salaam, that is the short history about the other director

Manager Steven:

The short history about the Manager Steven; He was born in 1985 in Arusha, Tanzania and went to Kijenge Primary School from 1994 until 2000, upon completing he attended Professional Tour Guide Course from 2001 to 2004 and afterwards went to Oldonyo Sambu Seminary for Secondary School Education From 2005 – 2007.

After that  he attended an advanced Tour Guide Certificate Course and has been working as Tour Guide in different companies in Arusha from 2008 – 2013 and Joined th SD Safaris Team from 2014 to to date.